Repost: This Week: Monday, May 24, 2010  Thankful Revolution: Remembering I AM

My posting on Face Book:
Let's start a Thankful Revolution: MY Challenge for each of us Today is
all of my facebook friends and family share your testimony

of thanksgiving to the Lord: What are you thankful for and share

…it and then pass that on to others so they can pass it on and let's

keep this day of thanksgiving going! Be Encouraged! Shalom 😀 So, let the …posting

… begin…Lord I am thankful because of who you are and your love for
me! Shalom
Wanting to give some testimony for why we should be thankful…think about this person's life and obstacle they overcame: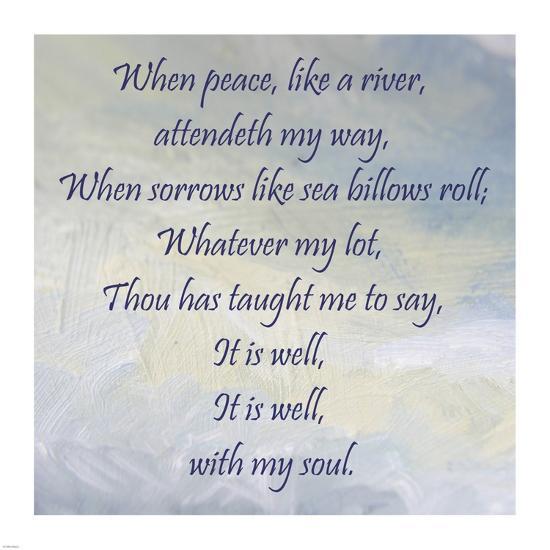 Horatio G. Spafford: The Story Behind the Hymn "It is Well with My Soul"
for full article go to the following website: http://www.associatedcontent.com/article/850395/horatio_g_spafford_the_story_behind.html?cat=38
"Saved Alone. What Shall I Do…"
In the late 1860s life was good for Horatio G. Spafford and his wife Anna. They were living in a north side suburb of Chicago with their five children, Annie, Maggie, Bessie, Tanetta and Horatio, Jr. He had a successful
law practice in Chicago . The doors of the Spaffords' home were always open as a place for activists to meet during the reform movements of the time. Horatio G. Spafford was quite active in the abolitionist movement. Frances E. Willard, president of the National Women's Christian Temperance Union as well as evangelical leaders like Dwight L. Moody were often guests in their home. Spafford was a Presbyterian church elder and a dedicated Christian.

Until now Horatio and Anna Spafford had led a charmed life. They had everything going their way. However, in 1870 their faith was tested by tragedy. Their four year old son, Horatio, Jr., died of scarlet fever. The Spaffords were devastated. In October of 1871 when the Great Chicago Fire broke out Horatio faced another test of his faith. A few months before the Great Chicago Fire, Spafford being a wealthy man, had invested much of his wealth in real estate by the shore of Lake Michigan . Not only did the Great Chicago Fire destroy most of Chicago but most of Spafford's holdings were destroyed. 250 people died in the Great Chicago Fire and 90,000 were left homeless.

The Spaffords did not despair. Their home had been spared and they had their family. God had been good. Even though their finances were mostly depleted, Anna and Horatio used what resources they had left to feed the hungry, help the homeless, care for the sick and injured and comfort their grief stricken neighbors. The Great Chicago Fire was a great American tragedy; the Spaffords used it to show the love of the Christ to those in need.



Songwriters: Yancy, Marvin; Jackson, Charles

Listening to Be Thankful by Natalie Cole http://p.rhap.com/Tra.3260206 #rhapsody
In our effort to keep the "Thankful Revolution" going for our first evening and entering into this week I will say at 11:33 p.m. EST Psalm 119:55 O LORD, I remember Your name in the night, And keep Your law.
Psalm 119:62 Bible in Basic English
In the middle of the night I will get up to give
you praise, because of all you…r right decisions.
This Week "Thankful Revolution": Remember I AM – This week let us all purpose in our heart to actively fight off All imaginations, thoughts and influences to focus on the wrongness of a situation INSTEAD of being Thankful for the God who has never left us while we go through a situation. Let us begin our day and end it simultaneously with a … See Moremindset of Remembrance: Reflecting that The Lord name is Jehovah….
some insight on Jehovah website for full article is http://www.swedenborgdigit allibrary.org/sower/exnmdt /exod35tn.htm
Who did the Lord say that He was? "I AM THAT I AM." "Thus shalt thou say unto the sons of Israel , I AM hath sent me unto you." And then He continued and called Himself by what seems to be another name. Look at verse 15, and you will read, "And God said moreover unto Moses, Thus shalt thou say unto the sons of Israel , The LORD God of your fathers, the God of Abraham, the God of Isaac and the God of Jacob hath sent me unto you, this is My Name forever, and this is My Memorial to all generations." Notice that the name, The LORD, is printed in small capital letters. Wherever the name of the LORD is printed in this way, it always stands for JEHOVAH. The Lord said that His Name is JEHOVAH. But what does "Jehovah" mean? It is a Hebrew word which means "He who was and will be," or, He who is. It is therefore simply another name with the same meaning as "I AM."

The beauty of "I AM" is that God is always in Present terms or tense….I AM is here with us never leaving us and never forsaking us. I AM is presently beside us to guide, love, cherish, encourage, strengthen, heal, comfort, uplift, open doors for, create, demonstrate, deliver, provide, pull down and take out of our way, basically I AM is here! I know for a Fact that I AM was there for me when I needed Him as my protector and life giver. So, in our effort to continue being Thankful Let us REMEMBER I AM! I love you all! With this in mind How has I AM been I AM for you…what do you remember, reflect, recognize, and share (and repost – smile). Let us keep this "Thankful Revolution" going. Selah – mediate on it like you sing a song in your head over and over again. Shalom Be Whole for I AM has made us that way. Love you! Miriam
Isn't it time for you, me, all of us to live our best lives! Let's shift it into a gear for next level living where we are actually obtaining the "hoped for good" in our lives. Time for us to achieve the bucket list of goals we once thought were so far off and removed from our grasps. We can and will do this one step at a time, one dream realized at a time, one conversation at a time can spark the fire needed to fuel our promise fulfillment! Amen INDEED!
Let the conversations ensue and the shifting occur for our next level transformation into what we were born to do – live life and that life MORE Abundant here on earth as it is in heaven.
The Thankful Revolution rejoices with you and looks forward to continuing to encourage, edify, educate, and inspire as we traverse along our life's pathway and choices. Enjoy the journey!
Continue to stay tuned for more on the meaning of LIFE as we explore Biblical Truths one word at a time, one scripture at a time, one moment in time, …let's eat that daily bread! Selah, Shalom, Amen Indeed Miriam a.k.a. Essence of Myrrh Proverbs 3:5-8 (TIME for a next level New-Beginning)! We would be honored if you do Subscribe, Bookmark, Save, Share, Comment, Like, and Enjoy how N.O.W. = New-Beginnings is our Witness can be yours today through one daily Myrrhism Word/Message at a time.
Check out Our Blog: https://thethankfulrevolution.com/blog/
P.S. Remember, to help us navigate through this life and enjoy a new life that one being eternal with God our Father; we have to make a decision N.O.W. = New Beginnings is our Witness. Below provides a prayer that you can ask the Lord to become your Redeemer, Healer, Savior, your everything to help you on your personal life's journey – even though it may be bitter some times with God He always sweetens your steps. Love you always! Miriam aka Essence of Myrrh Proverbs 3:5-8.
HERE I AM LORD, HELP ME TO CHANGE INTO THE PERSON YOU BIRTHED ME INTO EXISTENCE TO BECOME. ALLOW MY PERSONAL PERSPECTIVE (OUTLOOK AND THOUGHTS) BECOME NEW. LET ME KNOW IN MY HEART THAT YOU ARE GOD AND IF I TRULY TRUST YOU THEN I CAN BE LIBERATED – BASICALLY SET FREE TO LIVE A LIFE HERE ON EARTH LIKE YOU DESIRE ME TO EXISTS FOR AN ETERNITY WITH YOU IN HEAVEN. HELP ME TO VIEW YOU CLEARLY WITH A STEADFAST FOCUS! I ASK THAT ANY OBSTACLE THAT HAS HINDERED ME BEFORE OR IN MY FUTURE BE REMOVED SO THAT I CAN OBTAIN THE WISDOM AND KNOWLEDGE YOU HAVE FOR ME TO LIVE IN PEACE, LOVE, STRENGTH, POWER, AND FEARLESSLY. THANK YOU FOR EQUIPPING ME WITH ALL THAT I NEED (HOLY SPIRIT AND JESUS AS MY SAVIOR) TO SUCCESSFULLY NAVIGATE THIS LIFE'S JOURNEY. I AM GRATEFUL, HUMBLED, AND WILLING TO BE YOUR FAITHFUL SERVANT. I AM HERE AND ASK FOR YOUR HELP EVERY SINGLE DAY. THANK YOU FOR HEARING ME AND PROVIDING ALL THAT I HAVE NEED FOR ACCORDING TO YOUR RICHES IN HEAVEN. AMEN (SO BE IT)!
Selah and Shalom ~ Essence of Myrrh Proverbs 3:5-8 from Miriam S StevensThankful Revolution and Todah Praise ChannelMsstevenspr.comSMS = Send Messages Safely#faithspeaksanditisso#PerpetuatedPositionsPosterity Please visit, subscribe, share, like, and comment at TheThankfulRevolution.comhttps://thethankfulrevolution.com/ and I ask you all to review one of our more provocative Myrrhism Blog Messages – (And do feel free to comment because we are always looking to get your thoughts, feedback, and testimony while we continue in this journey called LIFE) Myrrhism Message Thirty Seven – Faith Speaks and it is so! A.W.E. https://thethankfulrevolution.com/…/myrrhism-message… Love you all!