This is a significant time for Christianity when we celebrate how Jesus is the Savior for all mankind.  Many celebrate his resurrection.  That is why we will focus upon the R.I.S.E. of Christ our Redeemer.
R = Redemptive Reconciliation
I = is indelible
S = Sealing Sanctification
E = Etched Eternally
This is Palm Sunday where we recognize the journey that Jesus took in order for mankind where he willfully gave his life to accept all sin upon himself that clears everyone's account.  We have redemption and reconciliation with God the Father because of his action to be the sacrifice for us.  This is indelible where the permanence of Jesus actions is irreversible.  He sealed the deal and covers us through the shedding of His blood allowing those who truly believe Him to be savior and accept Jesus as their personal Lord receive sanctification.  This historical account is etched into the legacy for all generations to benefit from eternally.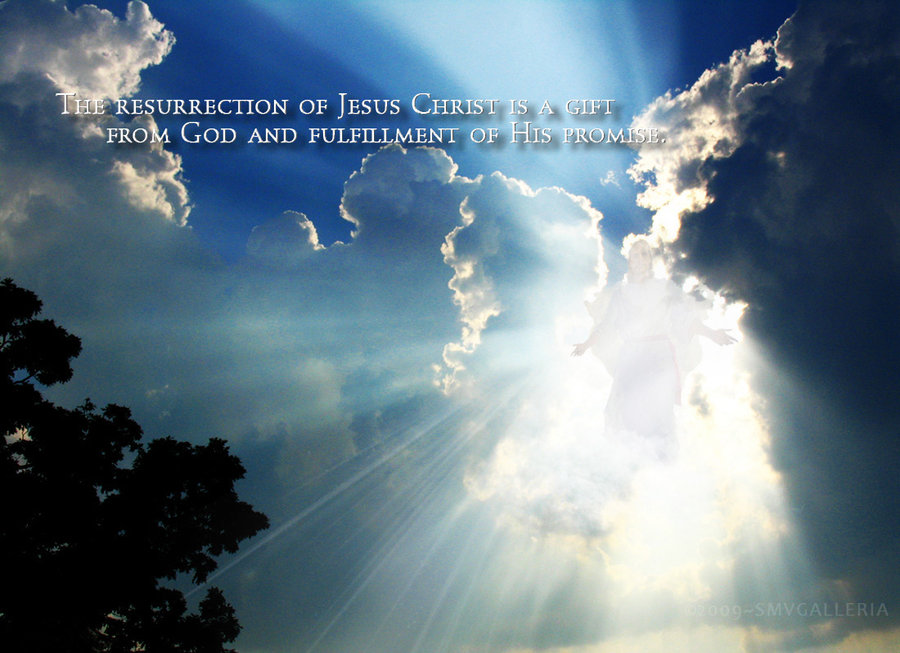 Everyone still has to make a decision to choose this day whom they will serve.  Either life or death, sin or salvation, Heaven or Hell, and Jesus or nothing else.
Let's learn more about the story of our Messiah's Resurrection and how the R.I.S.E. allows all who believe and accept enjoy Eternal Life:
The Resurrection 

1 When the Sabbath was over, Mary Magdalene, Mary the mother of James, and Salome purchased [sweet-smelling] spices, so that they might go and [a]anoint Him. 2 Very early on the first day of the week, they came to the tomb when the sun had risen. 3 And they were saying to one another, "Who will roll back the stone for us from the entrance of the tomb?" 4 Looking up, they saw that the stone had been rolled away, though it was extremely large. 5 Entering the tomb, they saw a young man sitting on the right, wearing a [long, stately] white robe; and they were amazed and bewildered. 6 And he said to them, "Do not be amazed; you are looking for Jesus the Nazarene, who was crucified. He has risen; He is not here. See, [here is] the place where they laid Him. 7 But go, tell His disciples and Peter, 'He is going ahead of you to Galilee; you will see Him there, just as He told you.'" 8 They went out and fled from the tomb, for they were seized with trembling and astonishment; and they said nothing [about it] to anyone, because they were afraid.

9 [b][Now Jesus, having risen [from death] early on the first day of the week, appeared first to Mary Magdalene, from whom He had cast out seven demons. 10 She went and reported it to those who had been with Him, while they were mourning and weeping. 11 When they heard that He was alive and had been seen by her, they did not believe it.

12 After that, He appeared in a different form to two of them as they were walking along the way to the country. 13 They returned [to Jerusalem] and told the others, but they did not believe them either.

The Disciples Commissioned

14 Later, Jesus appeared to the eleven [disciples] themselves as they were reclining at the table; and He called them to account for their unbelief and hardness of heart, because they had not believed those who had seen Him after He had risen [from death]. 15 And He said to them, 

"Go into all the world and preach the gospel to all creation.

 16 He who has believed [in Me] 

and has been baptized will be saved

 [from the penalty of God's wrath and judgment]; 

but he who has not believed will be condemned.

 17 These signs will accompany those who have believed: in My name they will cast out demons, they will speak in new tongues; 18 they will pick up serpents, and if they drink anything deadly, it will not hurt them; they will lay hands on the sick, and they will get well."

19 So then, when the Lord Jesus had spoken to them, He was taken up into heaven and sat down at the right hand of God.20 And they went out and preached everywhere, while the Lord was working with them and confirming the word by the signs that followed.]

Footnotes:

Mark 16:1 

This was an act designed to indicate loving devotion to the deceased, and to lessen the odor of decay.

Mark 16:9 

Later mss add vv 9-20.
We are all at the crossroad to securing our eternal abode.  Our decisions should not be taken lightly because what we choose is the most important choice we make in our life's journey.
Below is a previous The Thankful Revolution post excerpt that provides guidance to all on how to receive salvation and accept that Jesus did R.I.S.E. again so that we could be delivered from the shackles that deadly S.I.N. dooms us all to be enslaved to if we do not accept Jesus as our personal Lord and Savior:
To learn more about what we must do to become saved from the death that S.I.N. causes the following provides some guidance:

Prayer of salvation examples (BUT, really the most important aspect is to just speak from your heart to God).

The Sinner's Prayer – 4 Examples for Salvation

After you accept Jesus as your Lord and Savior to redeem you from the death grip that S.I.N. created, you can use the following as guidance for how to continue on your journey with the Lord eternally:

5 Things to Do After You Get Saved

I rejoice with your free will choice to choose life of faithful obedience to God's original plan for your life.  Let us now continue to live life and that life more abundant!

Stay tuned for more on the meaning of LIFE as we explore Biblical Truths one word at a time, one scripture at a time, one moment in time, …let's eat that daily bread! Selah, Shalom, Amen Indeed ❤Miriam a.k.a. Essence of Myrrh Proverbs 3:5-6  Subscribe, Bookmark, Save, Share, Comment, Like, and Enjoy how N.O.W. = New-Beginnings is our Witness can be yours today through one daily Myrrhism Word/Message at a time.  Check out Our Blog: https://thethankfulrevolution.com/blog/ 
Selah and Shalom