The original sin separated, incarcerated, and negated God's plan for His creation to live eternally in bliss communing with Him.
S

= Separation from our Father God.

I

= Incarceration into a prison of death, curse, and denial of entrance as an inheritor of God's Kingdom.

N

= Negates the original plan that our Father had in mind when He created us in His image and destroys our opportunity to have life and that life more abundant.
This is what entered into the world when God's children used their free will to choose to trust in the deceitful lie of the serpent and put their faith in this created creature of death versus faithfully obey our loving Father God, who is the CREATOR.
How backwards is this to believe in something that was not our parent but through the pressure of a lower being we fell prey to its deception and ultimately doomed for all who followed the original generational curse that being S.I.N.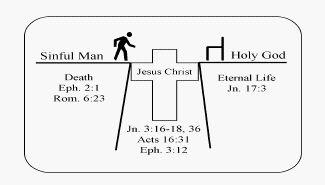 So, there are doubters who purport that Jesus can not be the only way for us to be reconnected, liberated, and reinstated back into the original plan that God had for us – that being communion eternally in the place He created for us to thrive, enjoy, and live abundantly. Those believing and spreading this type of  logic, need to rethink how this is not supported by the Bible.  This type of thinking breaks our bonds of faith with God and disobeys His word of truth.
Why is this lie supported by so many and how did it creep into the core of man's heart?
This happened from our original transgressors who caused us to now have to use our personal free will decision of choice to faithfully obey God N.O.W. where (New-Beginnings is our Witness)!
Without faith it is impossible to please the Lord. Also, those who worship the Lord must do so by choosing a life of faith and obedience. God's word never changed from our inception. He doesn't change His tune regardless of the whims of creation and the cultural pressure to relate to status quo opinions that is in direct opposition to the message of the gospel.
Truth remains, lies die.
Therefore, since God is constant and His way is solid, why should man join the bandwagon to submit to the dynamic trends that influence one's heart to veer away from the unchanging, eternal, truth from our Father.  The shift to believer one's own mindset versus the creator's dominion started from the beginning.  Eve and Adam foreshadowed how the heart of man is prideful, leans towards deceit, and flawed.  We often hear people say when you are at a crossroad decision in your life to "follow your heart", but is that wisdom?
Wisdom does not massage falsehood, but elevates pure, unadulterated, truth.  Wisdom always aligns with what our Father spoke into existence since the Genesis of our creation. Therefore, although in this technological day and age it may be more visibly prevalent that the "me generation" cares more about self-promotion than Godly elevation; from the beginning of time our first transgressors – Eve and Adam – spearheaded this behavior when they agreed in their heart with the enemy that by eating the forbidden fruit they could be God too.
Why did Jesus have to be our Savior?
One of the first result of sin caused a spilling of innocent blood from one brother's hand to murder his brother all because of him choosing to not yield to God's way.
Well, it will take an innocent brother's shedding of His blood in order to appease God and the only innocent brother mankind has is Jesus.  Therefore, He used His free will to accept everyone's S.I.N. for all mankind (from the beginning of time to eternal) so that we could now have the opportunity to accept God's original plan for us again.
BLOOD shed is inevitable and grace is how we enter into a right relationship that is restored back to our Father's kingdom.  Nothing that mankind could do would ever restore us into a right relationship with God because legalities and rules could not be completely followed.  All have sinned and come short of the glory of God (Even Jesus).  Therefore, because of S.I.N. we could never remain in an eternal communion with the Father in His Kingdom.  We were banned by God's very orders from entrance back into the place (Garden of Eden) that He originally created for us to reside and have dominion.  Therefore, since we all inherited acceptance of a slick talker's word above God's command we would have to now reside where that one lives eternally – hence hell.
So, this grieved God.  This was not the original plan!  Therefore, God with His infinite wisdom created the only avenue for redemption, restoration, and release of bondage.  This only way is choosing to accept His word and obey Him faithfully that Jesus is our Savior and through His sacrificial shed blood by giving His life for a brother; we now can allowed entrance again into the Kingdom of Heaven that He created for us to reside eternally.  This is the Master's plan called grace.  And it is the only plan that we can choose regardless of how others spin their truth to twist it into a convenient "feel-good" message that is more palpable for man's taste that everyone can be saved on what we think is acceptable.
People are so apt to think we are so smart.  People who did not create the Heavens or Worlds believe we have a mind that far surpasses our Creator.  This is a lie and trick from the beginning of time.  This kind of thinking and choice to believe in a lie took away our opportunity for God's original Life plan without incident.  Therefore, God in His infinite love and ability to be God provided another solution for us to regain His confidence, His relationship, and His acceptance.
Following is a conversation between Oprah Winfrey and David Brooks on the television show – Super Soul Sunday (12.6.15 S6Ep24).  David Brooks and Oprah discuss building a strong, moral character.  (Disclaimer –  By posting this video message does not endorse or support that its content subscribes to God's Biblical scriptural truths.)  The topic of discussion brings an interesting conversation on morality, sin, and humanity's conscious perceptions from one's persons opinions.  This brings a diverse opinion to compliment the core foundation that  God's word never changes regardless of how society constantly changes how it pursues morality, spirituality, and meaning of life.
The ultimate influence that S.I.N. interjects into the human heart condition is how acceptance of God's truth versus Man's truth influences our decisions to actively, faithfully, and obediently develop into a spiritually wise and morally divine character.
Again, what is asked – choose this day whom you will serve -(what does your heart subscribe to):

life or death / God or Man / Sin or Salvation
YouTube video Oprah's SuperSoul Conversations – David Brooks: The Road to Character
That way is Jesus Christ, for God so loved this world that He gave His only Begotten son so that whosoever believes in Jesus might be saved from S.I.N.  (John 3:16)  There is only one way to live permanently with God in Heaven, so be not deceived God is not mocked by the opinions of man.
Jesus bore all sin on Himself so that everyone (His brothers and sisters) could now become saved from the detriment that Eve and Adam heaped upon us from the Beginning (Genesis) when they decided to be tricked into giving up the rights to kingdom living.  We no longer have to succumb to S.I.N.'s weight of burdens, sickness, separation, addictions, perversion, legalism, depression, and an eternal abode in Hell.  Jesus been there and done that by accepting all man's sin upon Himself, dying, and then in His resurrection we have redemption.
Therefore, it is our free will that led us into the mess of generational curse of S.I.N. and it will be our free will that will lead us out of the mess of the generational curse of S.I.N. into life and that life more abundant through grace, faith, obedience, and liberation through Christ our redeemer.
So, what do we have to do to release the S.I.N. from our DNA? 

What is the plan? 

What is the choice we have to make?
To learn more about what we must do to become saved from the death that S.I.N. causes the following provides some guidance:
Prayer of salvation examples (BUT, really the most important aspect is to just speak from your heart to God).
The Sinner's Prayer – 4 Examples for Salvation
After you accept Jesus as your Lord and Savior to redeem you from the death grip that S.I.N. created, you can use the following as guidance for how to continue on your journey with the Lord eternally:
5 Things to Do After You Get Saved
I rejoice with your free will choice to choose life of faithful obedience to God's original plan for your life.  Let us now continue to live life and that life more abundant!

Stay tuned for more on the meaning of LIFE as we explore Biblical Truths one word at a time, one scripture at a time, one moment in time, …let's eat that daily bread! Selah, Shalom, Amen Indeed ❤Miriam a.k.a. Essence of Myrrh Proverbs 3:5-6  Subscribe, Bookmark, Save, Share, Comment, Like, and Enjoy how N.O.W. = New-Beginnings is our Witness can be yours today through one daily Myrrhism Word/Message at a time.  Check out Our Blog: https://thethankfulrevolution.com/blog/