Main Scripture Book of Ezekiel Chapter 36.
Subtext – Don't be deceived GOD will never be put to shame for He is Holy and His people will be people reflective of this nature, character, and actions.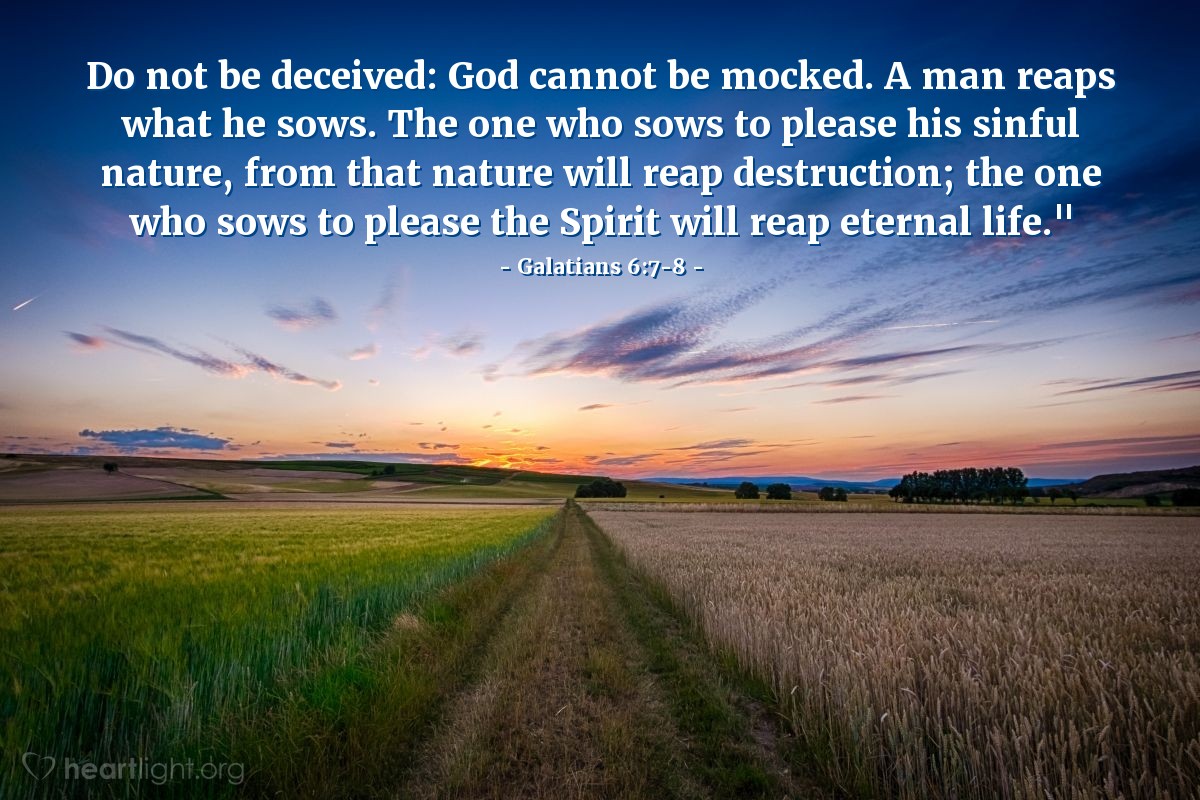 Galatians 6:7-8 The Message Version
7-8 Don't be misled: No one makes a fool of God. What a person plants, he will harvest. The person who plants selfishness, ignoring the needs of others—ignoring God!—harvests a crop of weeds. All he'll have to show for his life is weeds! But the one who plants in response to God, letting God's Spirit do the growth work in him, harvests a crop of real life, eternal life.
WOW, I am reading and marinating of the word of the Lord. God said He is doing this for His glory. His reputation restoration. Be not deceived God is definitely not mocked. God will tear down and rebuild. God scrubs off all of the mess, wipes out all of the decay, and rebuilds from rubble a beautiful masterpiece. He will make a great city because He can. God is Holy. His people should represent Him as Holy people of faith. What was once was considered vile, unscrupulous, and rebellious is now humbled by circumstances and reminded that GOD will not have his good name be slandered. The message is Ezekiel is powerful. I am in awe that although God was angry; He still loves His people and will restore them even when they were faithless and carried away seeking after other things. God's word will always become a visible testimony. Though it tarry and though there may be some delays; God will have His way!
Read and meditate on the word that came forth in Ezekiel.
For some additional insight to this scripture check out an online resource commentary links: https://enduringword.com/bible-commentary/ezekiel-36/ and https://www.bible-studys.org/Bible%20Books/Ezekiel/Ezekiel%20Chapter%2036.html and https://www.preceptaustin.org/ezekiel_36_commentary
Ezekiel 36 The Message Version
Back to Your Own Land
36 1-5 "And now, son of man, prophesy to the mountains of Israel. Say, 'Mountains of Israel, listen to God's Message. God, the Master, says, Because the enemy crowed over you, "Good! Those old hills are now ours!" now here is a prophecy in the name of God, the Master: Because nations came at you from all sides, ripping and plundering, hauling pieces of you off every which way, and you've become the butt of cheap gossip and jokes, therefore, Mountains of Israel, listen to the Message of God, the Master. My Message to mountains and hills, to ditches and valleys, to the heaps of rubble and the emptied towns that are looted for plunder and turned into jokes by all the surrounding nations: Therefore, says God, the Master, now I'm speaking in a fiery rage against the rest of the nations, but especially against Edom, who in an orgy of violence and shameless insolence robbed me of my land, grabbed it for themselves.'
6-7 "Therefore prophesy over the land of Israel, preach to the mountains and hills, to every ditch and valley: 'The Message of God, the Master: Look! Listen! I'm angry—and I care. I'm speaking to you because you've been humiliated among the nations. Therefore I, God, the Master, am telling you that I've solemnly sworn that the nations around you are next. It's their turn to be humiliated.
8-12 "'But you, Mountains of Israel, will burst with new growth, putting out branches and bearing fruit for my people Israel. My people are coming home! Do you see? I'm back again. I'm on your side. You'll be plowed and planted as before! I'll see to it that your population grows all over Israel, that the towns fill up with people, that the ruins are rebuilt. I'll make this place teem with life—human and animal. The country will burst into life, life, and more life, your towns and villages full of people just as in the old days. I'll treat you better than I ever have. And you'll realize that I am God. I'll put people over you—my own people Israel! They'll take care of you and you'll be their inheritance. Never again will you be a harsh and unforgiving land to them.
13-15 "'God, the Master, says: Because you have a reputation of being a land that eats people alive and makes women barren, I'm now telling you that you'll never eat people alive again nor make women barren. Decree of God, the Master. And I'll never again let the taunts of outsiders be heard over you nor permit nations to look down on you. You'll no longer be a land that makes women barren. Decree of God, the Master.'"
16-21 God's Message came to me: "Son of man, when the people of Israel lived in their land, they polluted it by the way they lived. I poured out my anger on them because of the polluted blood they poured out on the ground. And so I got thoroughly angry with them polluting the country with their wanton murders and dirty gods. I kicked them out, exiled them to other countries. I sentenced them according to how they had lived. Wherever they went, they gave me a bad name. People said, 'These are God's people, but they got kicked off his land.' I suffered much pain over my holy reputation, which the people of Israel blackened in every country they entered.
22-23 "Therefore, tell Israel, 'Message of God, the Master: I'm not doing this for you, Israel. I'm doing it for me, to save my character, my holy name, which you've blackened in every country where you've gone. I'm going to put my great and holy name on display, the name that has been ruined in so many countries, the name that you blackened wherever you went. Then the nations will realize who I really am, that I am God, when I show my holiness through you so that they can see it with their own eyes.
24-28 "'For here's what I'm going to do: I'm going to take you out of these countries, gather you from all over, and bring you back to your own land. I'll pour pure water over you and scrub you clean. I'll give you a new heart, put a new spirit in you. I'll remove the stone heart from your body and replace it with a heart that's God-willed, not self-willed. I'll put my Spirit in you and make it possible for you to do what I tell you and live by my commands. You'll once again live in the land I gave your ancestors. You'll be my people! I'll be your God!
29-30 "'I'll pull you out of that stinking pollution. I'll give personal orders to the wheat fields, telling them to grow bumper crops. I'll send no more famines. I'll make sure your fruit trees and field crops flourish. Other nations won't be able to hold you in contempt again because of famine.
31 "'And then you'll think back over your terrible lives—the evil, the shame—and be thoroughly disgusted with yourselves, realizing how badly you've lived—all those obscenities you've carried out.
32 "'I'm not doing this for you. Get this through your thick heads! Shame on you. What a mess you made of things, Israel!
33-36 "'Message of God, the Master: On the day I scrub you clean from all your filthy living, I'll also make your cities livable. The ruins will be rebuilt. The neglected land will be worked again, no longer overgrown with weeds and thistles, worthless in the eyes of passersby. People will exclaim, "Why, this weed patch has been turned into a Garden of Eden! And the ruined cities, smashed into oblivion, are now thriving!" The nations around you that are still in existence will realize that I, God, rebuild ruins and replant empty waste places. I, God, said so, and I'll do it.
37-38 "'Message of God, the Master: Yet again I'm going to do what Israel asks. I'll increase their population as with a flock of sheep. Like the milling flocks of sheep brought for sacrifices in Jerusalem during the appointed feasts, the ruined cities will be filled with flocks of people. And they'll realize that I am God.'"
Times, seasons, and declarations will remain a constant consistency when reviewing God's word. He is the same yesterday, today, and forevermore. One thing I reflect upon is that God wants His people to live in His promise land and blessings. I am not an expert with all the historical context to God restoration of Israel, I will present the word as God gives to me. The further digging and interpretation, I pray becomes revealed. I will say that in this season for me personally, I believe a shifting has occurred. A time of coming out of and coming in to. This is still a journey and a work in progress. I believe the truth that I stand on…that being "Thus saith the Lord!" That word never changes and its significance will never diminish no matter the surrounding circumstances or setbacks.
With that said, I encourage us all to remain confident that God is God all by Himself and He is able to do what may not be visible currently. He is able to call forth from all parts of the globe everything needed for restoration, healing, and new birth. God will scrub us clean from all of the lingering stench of our past so that we are entering this new beginning differently. No more carrying weights of disappointment and even failure. No more allowing the atmosphere to be fumed with stinking thinking and the putrid smell of decayed matter. God has breathed life into our midst. He has declared we be made whole. This day is the day the Lord has made, let us rejoice and be glad in it. Let us lay aside every weight, every sin, every way, every thought, and every action that caused us to wallow in waste. We are not cesspools. We should not be containers where every filthy manner of evil considers it as a dumping ground. We are our Father's children. We are loved by Him. God's covenant promises for His children are constant and lasting. Nothing that we do will change His word on the matter.
Therefore, don't continue to remain in the grime of a dung pile. That is not who you are and that is not who we are called to be and how we should live. Time for a full blown baptism of water, word, and will. We must be cleansed by a renewing of our minds sinking our thoughts into God's word so that our will can align with what God says. Nothing else matters when it comes to how precious we are to the Lord. His thoughts of us are for our good . Stop listening to negativity. Stop dwelling on the "I can't" message. Stop indulging in destructive behaviors. Put an end to being contrary to God's word on the matter. Cease from engaging in activities that feed the flesh. What your soul dwells upon is how you will act and live. If you dwell on how this can best benefit me apart from how I can humbly serve the Lord; then your end result for an eternal entrance may be a shock to you. What profit a man if he gains the whole world and loses his soul. Okay, you may be popular and follow the crowd's majority opinion; yet that way of living has no connection to God's word. This disconnect will be the downfall for your true purpose.
So, although Israel's people had turned their backs on God's word for their lives; God still never turned His back on them. God may had been angry for a moment and allowed all manner of things come against them; His promises would not be denied. More importantly, God's name will always be declared as great, mighty, Holy, and reputable.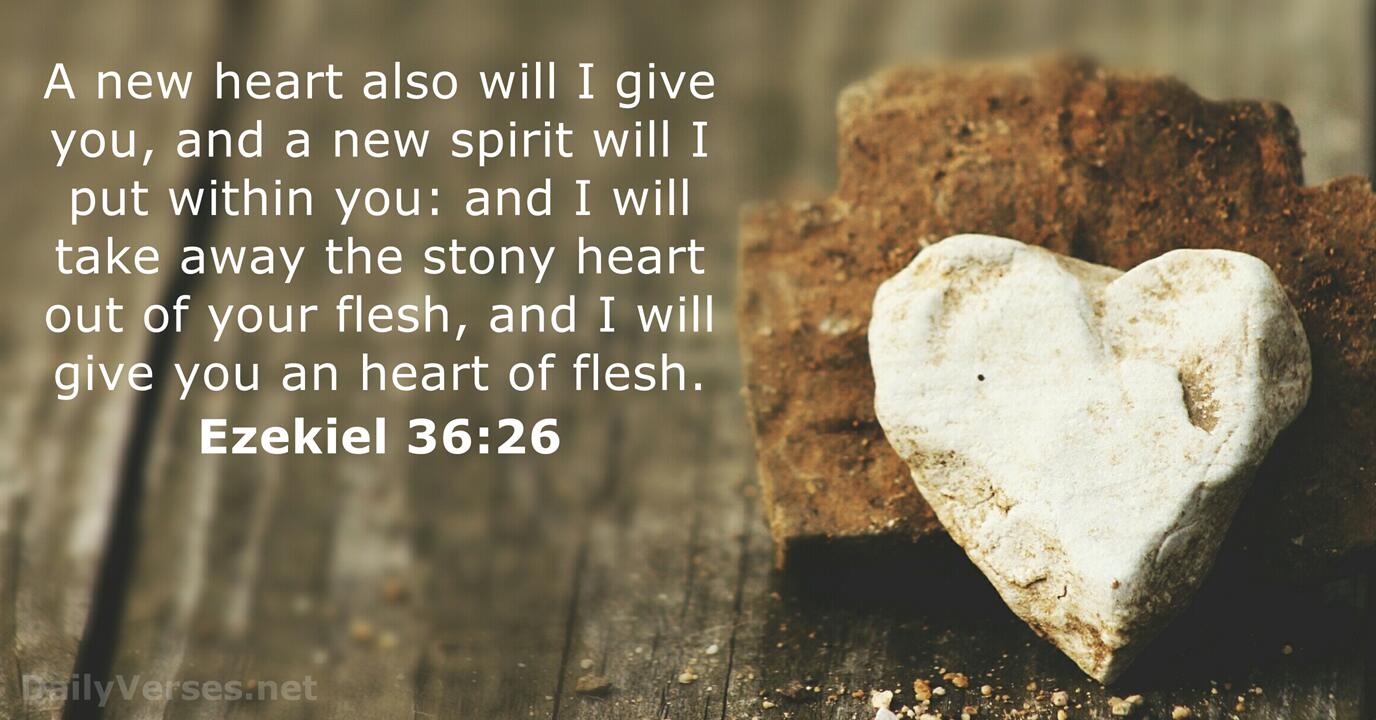 Change our heart oh Lord. It is time to become real with ourselves and identify every area that is off. Every action that is motivated by a lie or unhealthiness. We really need to have our internal dwellings (what we think) examined to ensure we are not coming from a place of selfishness and ignorance. Wisdom is crying out and if we are not open to hear God's word for our lives then our faith will not become activated to live a life of better. Faith comes by hearing and hearing the word of the Lord. How can our life be changed if we are not open or asking to hear God's word on the matter.

Maybe you say; there is no God. That is your choice; I just ask that you somehow find an inkling of inner desire to seek out the "what if." on the matter. What if God does exists and I have been ignoring all of the hints in my life. What if I have recovered from soooooooo many obstacles in my life and it was God all along in the background of your life helping you to get "out of" that situation. Perhaps you attribute your existence to a energy burst or bang of life or a mysterious occurrence; but you never allowed yourself to think maybe there is an all powerful being – The Great I AM who created all of this including my life.

So, I ask you to for once in your life ask out the question – "What if?"

There may be times in our lives when we face adversity. The enemy's job is to steal, kill, and destroy. But don't be dismayed because if God is for us who and what can be against us. God will always fight our battles for us. If there are challenges that we face and obstacles in our pathway; we will succeed if we continue in faith and don't back down from God's promises spoken to us.

Realize we have an army to fight on our behalf that God deploys whenever it is needed for His children's benefit.
For those of us who have settled in our hearts that we walk by faith and not by sight; believing that God is our author and finisher; then it is imperative that we continue to humbly seek His perfect will for our lives. Our utmost desire should be to have a heart molded and fashioned after how God desires us to love, live, and exists. If we have a hardened heart then we will never enter to the promised land nor behold all of the wonderful blessings God has stored up for us.

We have arrived where the dawning of a new day is upon us. Let us walk with our eyes wide open and our ears ready to hear. Furthermore, let us not yield to anything that is not ushered in by your Holy Spirit. We are now seeking only your true word. This day we hear you, we see you, we feel you….AND WE KNOW YOU!
N.O.W. = New-Beginnings is OUR Witness! Time to get living and living our BEST LIFE! So, here I am and here you are I think we should talk about it and see what we can share in order for us all to step into the Next Level Living where our BEST LIFE is Actualized!
FIRST TIME TO THE SITE? START HERE
CHECK OUT A FEW PREVIOUS MESSAGES:
I Hear Rain and Dry Bones Rattling
Faith Speaks and it is so…Dry Bones Live!
Let the conversations ensue and the shifting occur for our next level transformation into what we were born to do – live life and that life MORE Abundant here on earth as it is in heaven.
The Thankful Revolution rejoices with you and looks forward to continuing to encourage, edify, educate, and inspire as we traverse along our life's pathway and choices. Enjoy the journey!
Continue to stay tuned for more on the meaning of LIFE as we explore Biblical Truths one word at a time, one scripture at a time, one moment in time, …let's eat that daily bread! Selah, Shalom, Amen Indeed Miriam a.k.a. Essence of Myrrh Proverbs 3:5-8 (TIME for a next level New-Beginning)! We would be honored if you do Subscribe, Bookmark, Save, Share, Comment, Like, and Enjoy how N.O.W. = New-Beginnings is our Witness can be yours today through one daily Myrrhism Word/Message at a time.
Check out Our Blog: https://thethankfulrevolution.com/blog/
P.S. Remember, to help us navigate through this life and enjoy a new life that one being eternal with God our Father; we have to make a decision N.O.W. = New Beginnings is our Witness. Below provides a prayer that you can ask the Lord to become your Redeemer, Healer, Savior, your everything to help you on your personal life's journey – even though it may be bitter some times with God He always sweetens your steps. Love you always! Miriam aka Essence of Myrrh Proverbs 3:5-8.
If you do not know Jesus as your Lord and Savior, if you are unsure of your next steps in the journey, if you are loss and need guidance, if you can not say with confidence that by the time I finish reading this message if I die I will reside eternally with God….then I offer you the opportunity to CHOOSE THIS DAY LIFE. It is all on you and the beauty is this is your decision. You have been provided for such a time as this a chance – maybe your only earthly chance to declare in your heart that I need you Jesus to be my Lord and Savior. I pray with you…
HERE I AM LORD, HELP ME TO CHANGE INTO THE PERSON YOU BIRTHED ME INTO EXISTENCE TO BECOME. ALLOW MY PERSONAL PERSPECTIVE (OUTLOOK AND THOUGHTS) BECOME NEW. LET ME KNOW IN MY HEART THAT YOU ARE GOD AND IF I TRULY TRUST YOU THEN I CAN BE LIBERATED – BASICALLY SET FREE TO LIVE A LIFE HERE ON EARTH LIKE YOU DESIRE ME TO EXISTS FOR AN ETERNITY WITH YOU IN HEAVEN. HELP ME TO VIEW YOU CLEARLY WITH A STEADFAST FOCUS! I ASK THAT ANY OBSTACLE THAT HAS HINDERED ME BEFORE OR IN MY FUTURE BE REMOVED SO THAT I CAN OBTAIN THE WISDOM AND KNOWLEDGE YOU HAVE FOR ME TO LIVE IN PEACE, LOVE, STRENGTH, POWER, AND FEARLESSLY. THANK YOU FOR EQUIPPING ME WITH ALL THAT I NEED (HOLY SPIRIT AND JESUS AS MY SAVIOR) TO SUCCESSFULLY NAVIGATE THIS LIFE'S JOURNEY. I AM GRATEFUL, HUMBLED, AND WILLING TO BE YOUR FAITHFUL SERVANT. I AM HERE AND ASK FOR YOUR HELP EVERY SINGLE DAY. THANK YOU FOR HEARING ME AND PROVIDING ALL THAT I HAVE NEED FOR ACCORDING TO YOUR RICHES IN HEAVEN. AMEN (SO BE IT)!
Selah and Shalom ~ Essence of Myrrh Proverbs 3:5-8 from Miriam S StevensThankful Revolution and Todah Praise ChannelMsstevenspr.comSMS = Send Messages Safely#faithspeaksanditisso#PerpetuatedPositionsPosterity Please visit, subscribe, share, like, and comment at TheThankfulRevolution.comhttps://thethankfulrevolution.com/ and I ask you all to review one of our more provocative Myrrhism Blog Messages – (And do feel free to comment because we are always looking to get your thoughts, feedback, and testimony while we continue in this journey called LIFE) Myrrhism Message Thirty Seven – Faith Speaks and it is so! A.W.E. https://thethankfulrevolution.com/…/myrrhism-message… Love you all!