Have you ever thought the journey ahead is too much for you to handle or bear? Have you ever felt that you are not strong enough or have the skills to get through a rough situation? Have you been scared to jump in and swim believing you might drown along the way? Have you…I have and the good thing to know is that God can provide us peace to surpass even our own understanding on the matter. He can provide us the strength to get up and cross over to the other side!
Sometimes we get stagnant and complacent. Sometimes we let fear grip us up to the point of never moving forward. Sometimes we see what is ahead of us and think we are not up for the task. Sometimes we allow others to speak negativity into our lives. Sometimes we ourselves count ourselves out and don't persevere to obtain our best lives and promise hoped for. Time to stop this type of thinking and doom perception of what we can do or what we can't do. Time to stand up, shake off all the negative dust, and take one step at a time to move forward into our destiny.
God told Joshua this same message and encouraged him to move on after losing his mentor.
How many times have we lost someone important in our lives and thought to ourselves that we can't move on. Nothing else matters. We are just at the end of our road with nothing else to live for or give. I need to remind you and myself of God's words:
Joshua 1:9The Message
1 1-9 After the death of Moses the servant of God, God spoke to Joshua, Moses' assistant:
"Moses my servant is dead. Get going. Cross this Jordan River, you and all the people. Cross to the country I'm giving to the People of Israel. I'm giving you every square inch of the land you set your foot on—just as I promised Moses. From the wilderness and this Lebanon east to the Great River, the Euphrates River—all the Hittite country—and then west to the Great Sea. It's all yours. All your life, no one will be able to hold out against you. In the same way I was with Moses, I'll be with you. I won't give up on you; I won't leave you. Strength! Courage! You are going to lead this people to inherit the land that I promised to give their ancestors. Give it everything you have, heart and soul. Make sure you carry out The Revelation that Moses commanded you, every bit of it. Don't get off track, either left or right, so as to make sure you get to where you're going. And don't for a minute let this Book of The Revelation be out of mind. Ponder and meditate on it day and night, making sure you practice everything written in it. Then you'll get where you're going; then you'll succeed. Haven't I commanded you? Strength! Courage! Don't be timid; don't get discouraged. God, your God, is with you every step you take."
So, if you are at a place in your life where you have hit a wall, please know it happens but you can also get through the blockage in the front of you. Just cry, scream, and/or do whatever you need to do to get through and then realize that God has never left you nor forsaken you. You are not alone and you will make it!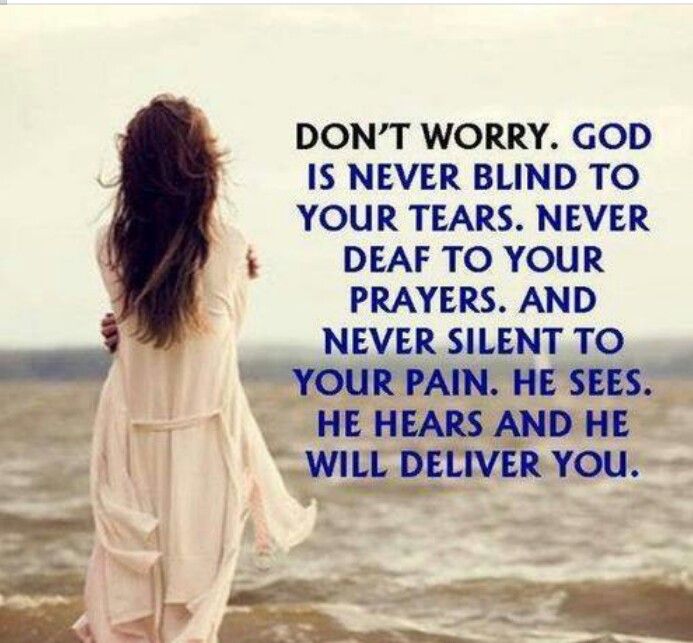 The word of God in the New Testament also encourages us that if Jesus speaks into our lives that we will make it and cross over to the other side, then we need to trust him without being fearful. Jesus knows what He is talking about and He speaks the truth. Therefore, I would encourage you and me to become reacquainted with the word of truth for our lives to live by in the following scriptures:
Jesus Calms the Storm
(Psalm 107:1–43; Matthew 8:23–27; Luke 8:22–25)
35When that evening came, He said to His disciples, "Let us cross to the other side." 36After they had dismissed the crowd, they took Jesus with them, since He was already in the boat. And there were other boats with Him.
37Soon a violent windstorm came up, and the waves were breaking over the boat, so that it was being swamped. 38But Jesus was in the stern, sleeping on the cushion. So they woke Him and said, "Teacher, don't You care that we are perishing?"
39Then Jesus got up and rebuked the wind and the sea. "Silence!" He commanded. "Be still!" And the wind died down, and it was perfectly calm.
40"Why are you so afraid?" He asked. "Do you still have no faith?"
41Overwhelmed with fear, they asked one another, "Who is this, that even the wind and the sea obey Him?"
Don't ever give up, with Faith in God who actually fights your battles and determines the ultimate outcome; you can and are the VICTOR!
Isn't it time for you, me, all of us to live our best lives! Let's shift it into gear for next level living where we are actually obtaining the "hoped for good" in our lives. Time for us to achieve the bucket list of goals we once thought were so far off and removed from our grasps. We can and will do this one step at a time, one dream realized at a time, one conversation at a time can spark the fire needed to fuel our promise fulfillment! Amen INDEED!
Let the conversations ensue and the shifting occur for our next-level transformation into what we were born to do – live life and that life MORE Abundant here on earth as it is in heaven.
The Thankful Revolution rejoices with you and looks forward to continuing to encourage, edify, educate, and inspire as we traverse along our life's pathway and choices. Enjoy the journey!
Continue to stay tuned for more on the meaning of LIFE as we explore Biblical Truths one word at a time, one scripture at a time, one moment in time, …let's eat that daily bread! Selah, Shalom, Amen Indeed Miriam a.k.a. Essence of Myrrh Proverbs 3:5-8 (TIME for a next level New-Beginning)! We would be honored if you do Subscribe, Bookmark, Save, Share, Comment, Like, and Enjoy how N.O.W. = New-Beginnings is our Witness can be yours today through one daily Myrrhism Word/Message at a time.
Psalm 37:23, "The steps of a good man are ordered by the Lord: and he delighted in his way."
Check out Our Blog: https://thethankfulrevolution.com/blog/
P.S. Remember, to help us navigate through this life and enjoy a new life that one being eternal with God our Father; we have to make a decision N.O.W. = New Beginnings is our Witness. Below provides a prayer that you can ask the Lord to become your Redeemer, Healer, Savior, your everything to help you on your personal life's journey – even though it may be bitter some times with God He always sweetens your steps. Love you always! Miriam aka Essence of Myrrh Proverbs 3:5-8.
HERE I AM LORD, HELP ME TO CHANGE INTO THE PERSON YOU BIRTHED ME INTO EXISTENCE TO BECOME. ALLOW MY PERSONAL PERSPECTIVE (OUTLOOK AND THOUGHTS) BECOME NEW. LET ME KNOW IN MY HEART THAT YOU ARE GOD AND IF I TRULY TRUST YOU THEN I CAN BE LIBERATED – BASICALLY SET FREE TO LIVE A LIFE HERE ON EARTH LIKE YOU DESIRE ME TO EXIST FOR AN ETERNITY WITH YOU IN HEAVEN. HELP ME TO VIEW YOU CLEARLY WITH A STEADFAST FOCUS! I ASK THAT ANY OBSTACLE THAT HAS HINDERED ME BEFORE OR IN MY FUTURE BE REMOVED SO THAT I CAN OBTAIN THE WISDOM AND KNOWLEDGE YOU HAVE FOR ME TO LIVE IN PEACE, LOVE, STRENGTH, POWER, AND FEARLESSLY. THANK YOU FOR EQUIPPING ME WITH ALL THAT I NEED (HOLY SPIRIT AND JESUS AS MY SAVIOR) TO SUCCESSFULLY NAVIGATE THIS LIFE'S JOURNEY. I AM GRATEFUL, HUMBLED, AND WILLING TO BE YOUR FAITHFUL SERVANT. I AM HERE AND ASK FOR YOUR HELP EVERY SINGLE DAY. THANK YOU FOR HEARING ME AND PROVIDING ALL THAT I HAVE NEED FOR ACCORDING TO YOUR RICHES IN HEAVEN. AMEN (SO BE IT)!
Selah and Shalom ~ Essence of Myrrh Proverbs 3:5-8 from Miriam S StevensThankful Revolution and Todah Praise ChannelMsstevenspr.comSMS = Send Messages Safely#faithspeaksanditisso#PerpetuatedPositionsPosterity Please visit, subscribe, share, like, and comment at TheThankfulRevolution.comhttps://thethankfulrevolution.com/ and I ask you all to review one of our more provocative Myrrhism Blog Messages – (And do feel free to comment because we are always looking to get your thoughts, feedback, and testimony while we continue in this journey called LIFE) Myrrhism Message Thirty-Seven – Faith Speaks and it is so! A.W.E. https://thethankfulrevolution.com/…/myrrhism-message… Love you all!